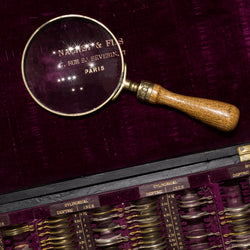 S16 Home
Mid-century Brass Magnifying Glass c.1960
ABOUT
This is an original magnifying glass with a solid brass band and decorative brass collar. The handle is Solid Oak. The magnifying glass is clear with minor scratches. This piece has retained its original finish and has minimal structural damage.
CREATOR Unknown.

DATE OF MANUFACTURE c.1960s

MATERIALS AND TECHNIQUES Solid Brass, Solid Oak. 

CONDITION Good. Wear consistent with age and use.
DIMENSIONS H 11.25 in. W 5.25 in. D 1.25 in.
HISTORY
Unknown.