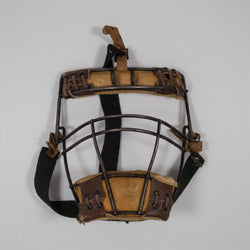 S16 Home
Leather, Steel and Rawhide Spalding Catcher's Mask c.1930
ABOUT
This is an original vintage catcher's mask by Spalding. The main body is carbon steel with thick, tan leather padding. The padding is held onto the body of the mask by brown leather straps and rawhide laced through grommets. The Spalding label is affixed to the fabric strap. The piece has retained most of its original finish and is in good condition with appropriate patina for its age.
CREATOR Spalding.

DATE OF MANUFACTURE c.1930

MATERIALS AND TECHNIQUES Carbon Steel, Leather, Rawhide, Fabric. 

CONDITION Good. Wear consistent with age and use.
DIMENSIONS H 8.25 in. W 7.5 in. D 3 in.
HISTORY

Masks were more obviously a protective device. Probably the first one was invented by an Ivy League man, Fred Thayer, who in 1876 adapted a fencing mask for Alexander Tyng, then with the Harvard Nine. At first, Thayer's better mouse trap was derisively called a rat trap. But the catcher's mask caught on quickly among pros and amateurs alike and was in wide use by the 1880s.
Thayer's patented mask went into the Spalding catalog for the 1878 season, and adaptations followed quickly. Its simple forehead and chin rests were embellished with padding—made from "imported dog skin," according to one Spalding catalog— to insulate the steel-mesh frame from the catcher's face. 
The "platform mask," a one-piece aluminum casting with horizontal crossbars instead of soldered mesh, was patented by umpire James E. Johnstone in 1921. Mesh still evolved, though, getting springy, shock-absorbing action and ball-deflecting shapes in the 1920s. One such mask designed by H. Goldsmith in 1923  had a padded "oval surround" with two cross bars. Other mask materials have come along, but carbon-steel wire mesh remains the material of choice to this day.